Giani Gurmukh Singh Musafir
Poet, politician, and freedom fighter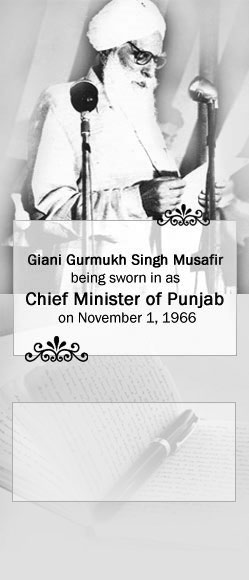 Profile

Giani Gurmukh Singh Musafir (15th January 1899 – 18th January 1976)
Offices Held
Member of A.I.C.C, since 1930
Member of Constituent Assembly – 1947-50
Member of Provisional Parliament – 1950-52
Member of Lok Sabha – 1952-57, 1957-62, 1962-66
President, Punjab Pradesh Congress Committee- 1947-59
Member working Committee A.I.C.C – 1952-57
Member, Executive Committee of the Congress Party in Parliament – 1952-1966
Member Jallianwala Bagh Memorial Committee since its inception
Chairman Reception Committee, Sixty- first session of the Indian National Congress held at Amritsar in 1956
Member, Legislative Council Punjab – 1966-68
Chief Minister, Punjab – 1966-67
Elected to Rajya Sabha in April 1968 and again in April, 1974
Travels Abroad
Visited almost all the countries to attend Peace and Writer's Conferences.
Member of Delegations
International Peace Conference, Stockholm-1954

World Peace Conference, Helsinki, 1965

World Peace Conference, Berlin (GDR), 1969
Leader of Delegations
Indian delegation to World Progressive Writers Conference, Japan, 1961
Indian Writers Afro-Asian Conference in Baku, U.S.S.R. 1965
He visited America and Canada in 1972, in search of authentic material about the martyrs of the 'Kama Gata Maru' ship and martyrs of 'Baj Baj Ghat' and has written a number of volumes about martyrs of the 20th century.
Honors And Awards
Had written about two dozen books of poetry, short stories, and on general topics
He recorded the reminiscences of his association with Mahatma Gandhi and Pundit Jawahar Lal Nehru in two separate volumes – "VEKHYA SUNYA GANDHI" (Gandhi as I knew him), "VEKHA SUNYA NEHRU" (Nehru as I Knew him). There is hardly any aspect of Nehru's life in which he has not expressed himself in a clear forceful and interesting manner. His book 'Martyrs of the 20th Century' is the result of 30 years of research and hard labor. Most of his poetry and short stories were written while in jail. He also translated 'Gandhi Gita' and James Allen's 'By Ways of Blessedness' title 'Anand Marg'.
He started writing poetry at a very young age and his patriotic compositions inspired the people of Punjab during the freedom struggle. His love and endearing warmth, his gift of humor which he had in abundance, his sagacity, and his gift of poetry made him one of the outstanding personalities in public life. Throughout his hectic political career, he retained his love of literature. His writings reveal his wide human sympathy, his love of the underdog, and his intense patriotism. His personal sufferings and sacrifices in the national cause are greatly remembered.